JT Foxx, Excellence and Mylene Fernström
Ever heard people talk about Excellence and wondered what all the fuss is about? Here is a paragraph out of my book " The Book on Excellence – How to Become Memorable and Build Cultures of Self-Excellence" that explains the thoughts behind what Self-Excellence is all about and why when I think about Excellence and all it means, JT Foxx comes to mind.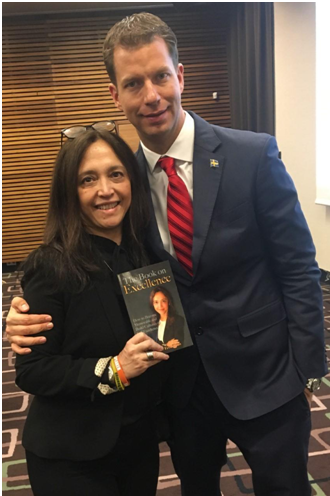 Excellence is not perfection. Excellence is progression with a number of great actions. Excellence is an attitude. Excellence makes you feel powerful, because you get your own satisfaction and can bring and get clients and employees satisfaction. Excellence empowers self-confidence on the greatness you have, on the greatness you deliver as a person and as company. Excellence is High Standards. Excellence is Legacy.
I have pursuit Excellence in all things from a very young age and this provides the backdrop to what my association with JT Foxx means in my life.
At the time when I first met JT, life was showing dark sides but I resisted to accept them and loose. After years being an Excellent Intrapreneur in the corporate world in companies as 3M, Volvo, Aker Kvaerner, etc a world crisis put me out of work (and actually my husband too).
I was kind of prepared: I saw this as an opportunity and had the right mindset to achieve my vision and my own standards of self-excellence firmly in place, but…the Scandinavian "Jante" law was making me crazy. This law practiced by a large portion of the Scandinavian people that fundamentally says, that nobody can be better than anybody else. This obviously makes talking about Excellence difficult. It was like an invisible jail that I could not escape from on my own. I needed help and it definitely wasn't any local help.
The structured and high-level tools I received from JT made me stronger and powerful, they gave me the strategies to rise victorious, and now, here I am: living my dream and achieving my vision, being an Excellent entrepreneur and helping other to step into Excellence achieving results. Working for clients all over the world with my passion: Excellence.
What I learnt from meeting JT Foxx
I met JT at his very first workshop in Sweden in September 2015 in Stockholm and what he said in that workshop stuck in my head. On our first meeting JT called me a Powerful Woman – that meant a lot to me, that touched me to a level of strength that confirmed my high-level game and that I was on the right track.
Meeting JT and his team was like being able to attend the best school in the world; almost like THE HARVARD OF COACHING. JT boost every idea, every person and every business. He goes beyond what is expected every time and one that stood out for me was about: "RESULTS DON'T LIE".
JT is the perfect coach when you think big and different as I do! I always say that JT thinks "outside-outside the box" that's what makes him Memorable, unlike so many other coaches and speakers around the world. You can be a Millionaire, you can be Number One with brilliant strategies.
He has not only changed my life but changed everything I do and think – he encourages you to think big and that's what Excellence is all about.
I usually say: "Well, JT says that …"
The Impact
I have taken my daughter with me since she was 18 to JT's events abroad, to Intelligent Millionaire Clubs and to coaching sessions because I have always wanted to make sure she gets the best education in the world. To bring what the schooling systems in the world still do not do: to prepare today's youth to face the new economy of entrepreneurship and create jobs. I want to teach her to create wealth and build her own legacy starting always from a place of abundance.
As a result of the association with JT Foxx and his coaching I have learnt to "WORK HARD UNTIL I DON'T NEED PRESENTATION" and yes it's totally true! In less than six months of work I have been contacted by my dream client to come and talk about Excellence. This came out of the blue without any action taken from my side and this is a very very high level, a very well-known Swedish brand. On the other hand my clients' testimonials talk about a high rating of customer satisfaction.
I am founder and creator of a new concept and brand: "Excellence Management". I am an award winning published author and international speaker on Excellence on both personal and business Excellence (in Spanish, English and Swedish) sharing stage with number one speakers in Holland, UK, Denmark, Sweden, USA, France and I am Excellence strategist. Excellence is my signature.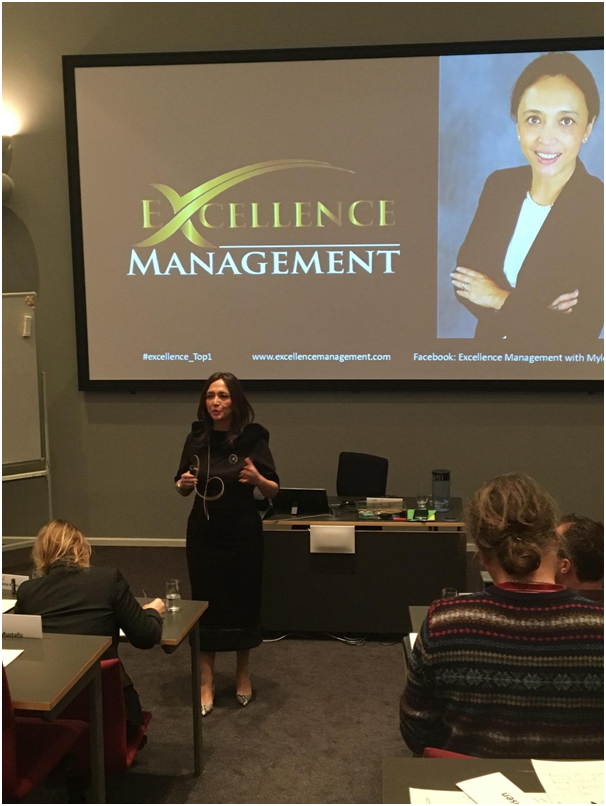 In Closing
Life is all about living it to the fullest – to be Excellent in all we do. Find the coaches and mentors that can allow you to take the necessary actions without fear and recriminations from others.
JT Foxx has done that for me and I am proud to be part of the JT Foxx worldwide "#familyfirst", this international community of high level entreprenours guided by high level coaches that JT's organization has put together.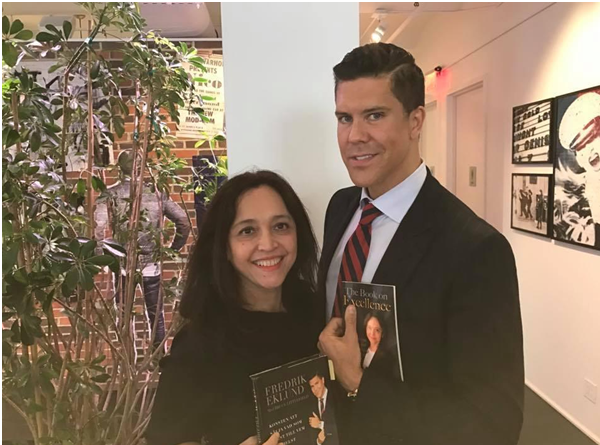 JT always inspires me and impresses me because he always Exceeds the Expectations.
Thanks to JT I have met great role models of Excellence as John Travolta, Calvin Klein, 50 Cent, George Ross (previous coach of Donald Trump), as well as kings of Real Estate as Huge Hilton and Fredrik Eklund, and the one and only, The Master of Excellence: @Dr Nido Qubein!
One of my biggest moments of Excellence was when Fredrik Eklund got my book in New York City. JT took the picture!
… and as JT says "PREPARATION MEETS OPPORTUNITY". So now I constantly meet other celebrities outside JT's arena as Arnold Schwarzenegger and I make great impressions getting Excellent connections… and for all this I thank JT Foxx for!